For you kids, "Calendar Girl" was a big hit for Neil Sedaka, a singer. In fact, the first concert I ever went to was a Neil Sedaka concert. Sigh. Yeah, this getting older thing sucks testes.
Anyway, our friend Jen is now, officially, a calendar girl! Usually, I would not risk life and limb by posting a photo of a woman in a provocative pose in my blog, but I post the following for two reasons: 1) it's Jen, and 2) I took the photo!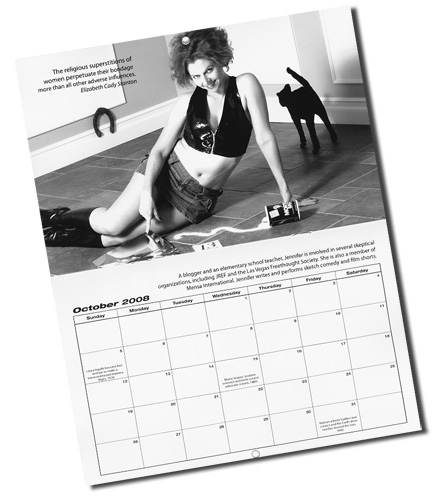 This is a calendar catering to the skeptic crowd, hence the plethora of iconic bad luck symbols. (The site that puts it together and offers it
resides here
.) I'm not exactly what being a skeptic entails, but I know it's much better than the alternatives.
Congratulations, Jen! You make exploitation look good! Hork.